What in your kit?
Ingredients
Instructions
Mould for the deodorant
Safety and Essential Oil guidelines
What you'll need at home
a microwave or a double boiler (whatever you are using to melt chocolate)
a kitchen scale or use one of our measuring scoops – easy and accurate.
Skill level: beginner
Time to make the deodorant: 30 minutes the first time… a lot less the second time!
Vegan & Zero-Waste Solid Deodorant Bar
How to use
Run the edge of the bar under warm water and apply to clean underarms. One thin layer is enough.
Suitable for all skin types
Important
Pregnant & breastfeeding women should make the deodorant without the essential oil. This also applies to children. It will not affect the efficiency of the deodorant.
This kit contains a nut-derived product (shea butter), and should not be used if you have topical nut allergies.
Expiry date:  Use within 12 months
About the ingredients
Shea Butter* is a soothing, moisturising botanical butter that helps to nourish & repair dry skin.
Candelilla Wax is a vegan wax obtained from an exotic plant.
Baking Soda is antibacterial and acts against bad smell.
Arrowroot Powder absorbs humidity and sweat. It can be replaced with corn starch.
*Denotes organic.
All ingredients are vegan and not tested on animals.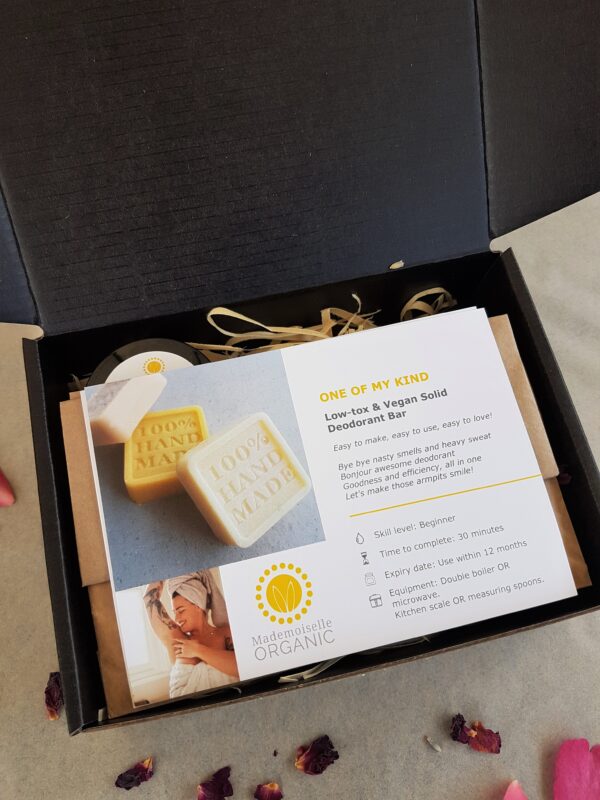 Packing options
Minimal Packaging: ingredients, instructions and empty containers are packed in our usual packing box, with other products you may have ordered. We use bbiodegradable paper wrap to protect the glass bottles until they reach you.
Gift Hamper Style: we pack everything in a beautiful black box, with wood wool to give it a gorgeous hamper style. We even add some flower petals! The box is then wrapped in country-style kraft paper with a paper twine bow. You can add a short message for your cherished one, we will handwrite it on a card and include it in the hamper.
Optional: add measuring scoops to measure your ingredients without a kitchen scale. The same scoops can be used for all the DIY beauty kits on our website so you only need to order them once.
How to use: simply check the quantities indicated in the recipe, pour your ingredients and level each scoop with a clean knife.
Questions?
Click here to check frequent questions and contact us.