Whenever I run a workshop, I ask participants why they are interested in learning how to make their own natural beauty products. Many of them reply: "because I want to reduce plastic waste and my environmental impact".
DIY Beauty is a great way to achieve the objective of a zero-waste lifestyle because…
you are in control of where you get your ingredients and how they are packaged (for instance, the Mademoiselle Organic ingredients are never sold in plastic bottles: only glass, aluminium or kraft containers)
you can re-use your containers to store your products
you do not need to purchase a huge number of different products, as the same ingredients can be used in many different recipes. For instance, jojoba oil can be used to remove make-up, moisturise your skin and is a great addition to body balms.
you can also choose to purchase "organic" ingredients, which means they have not been grown using pesticides that may damage the environment. On the Mademoiselle Organic website, you'll find most ingredients are organic (except clays, which are not grown so cannot be labeled "organic", and some plant powders which we could not find supplied in organic form)
In this blog post, I'll quickly cover how you can reuse empty containers to store your new products, so you don't have to throw them away or buy new ones.


Hygiene first
When you make a new beauty product, or transfer an ingredient into a new container, it's important to keep in mind that your container must be clean in order to avoid bacteria contamination. It must also be disinfected every time you re-use it. Don't worry, this is actually really easy to do 😉
How to disinfect and re-use your empty containers
Start by washing clean your container, using water and soap, and then dry it. If it contained vegetable oils or butters, and you find it's hard to clean, just use a dry cloth to remove the remaining product and then wash with warm water.
The next step if to disinfect your container. There are two methods you can use:
Spray it with 70% Isopropyl Alcohol (available at your local pharmacy)
Or, if it's heat-resistant, place your container in boiling water for 10 minutes.
And that's it! Really simple!
How to transfer your product
You can use a kitchen funnel to transfer liquids, and a spoon for powders. Clean and disinfect any tool you use so that it doesn't contaminate your product 😉
I hope these little tips help you reduce plastic waste and feel proud of making beautiful products with low environmental impact.
With love,
Lily – Mademoiselle Organic Founder
---
Learn how to make your own, 100% natural scrubs. It takes seconds and it's very easy!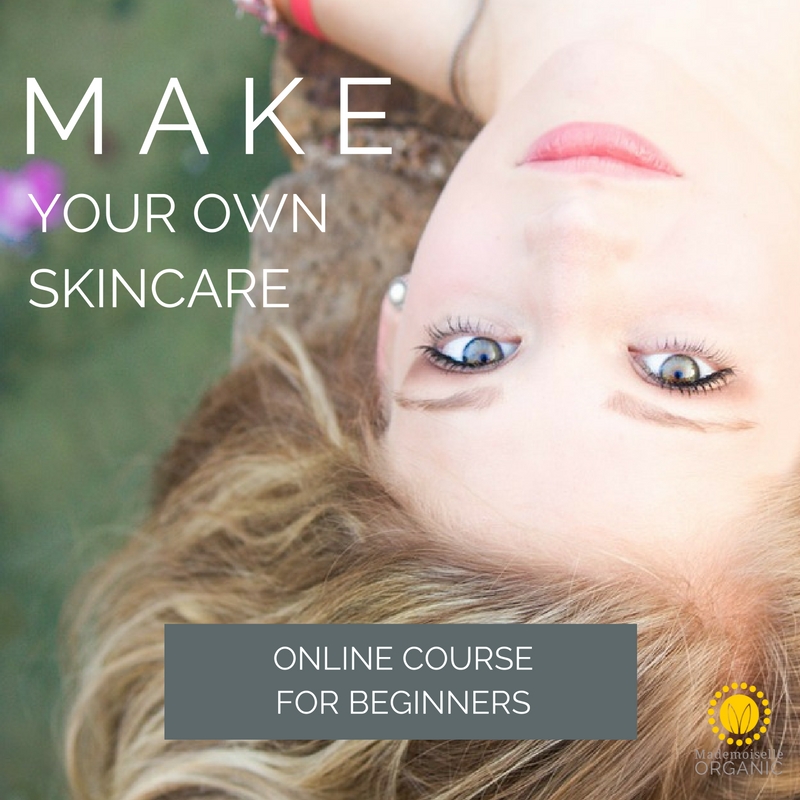 ---
Disclaimer:  Any recommendations are based on personal, not professional, opinion only.  All information on Mademoiselle Organic is meant for educational and informational purposes only.  For information on how to use this site, please read my Blog Policy page.