Perfumes are made of fragrance materials, such as essential oils, plus optional fixatives, all mixed in a "base".
The most common bases are:
Perfumer's alcohol (mainly used for industrial and retail perfumes).
It's a mix of Ethanol, Purified Water (usually 2-5%) and a denaturant (such as t-Butanol or Denatonium Benzoate). The denaturant gives the alcohol a very bitter taste that makes it unfit for drinking.
"Homemade" alcohol.
Vodka and distilled water is used in some homemade perfumes, but it doesn't solubilise ingredients as well as perfumer's alcohol.
Natural carrier oils and vegetable butters (natural perfumes).
Pure vegetable oils such as jojoba oil and a mix of waxes and botanical butters are used to make natural perfumes.
The base will determine the final texture and how to use the perfume:
Perfume's alcohol is used to make liquid perfume in a spray bottle
Natural carrier oils are the perfect base for liquid perfume in a roll-on bottle
A mix of oils, waxes and botanical butters ("body balm base") is perfect to create solid perfumes in a closed, small jar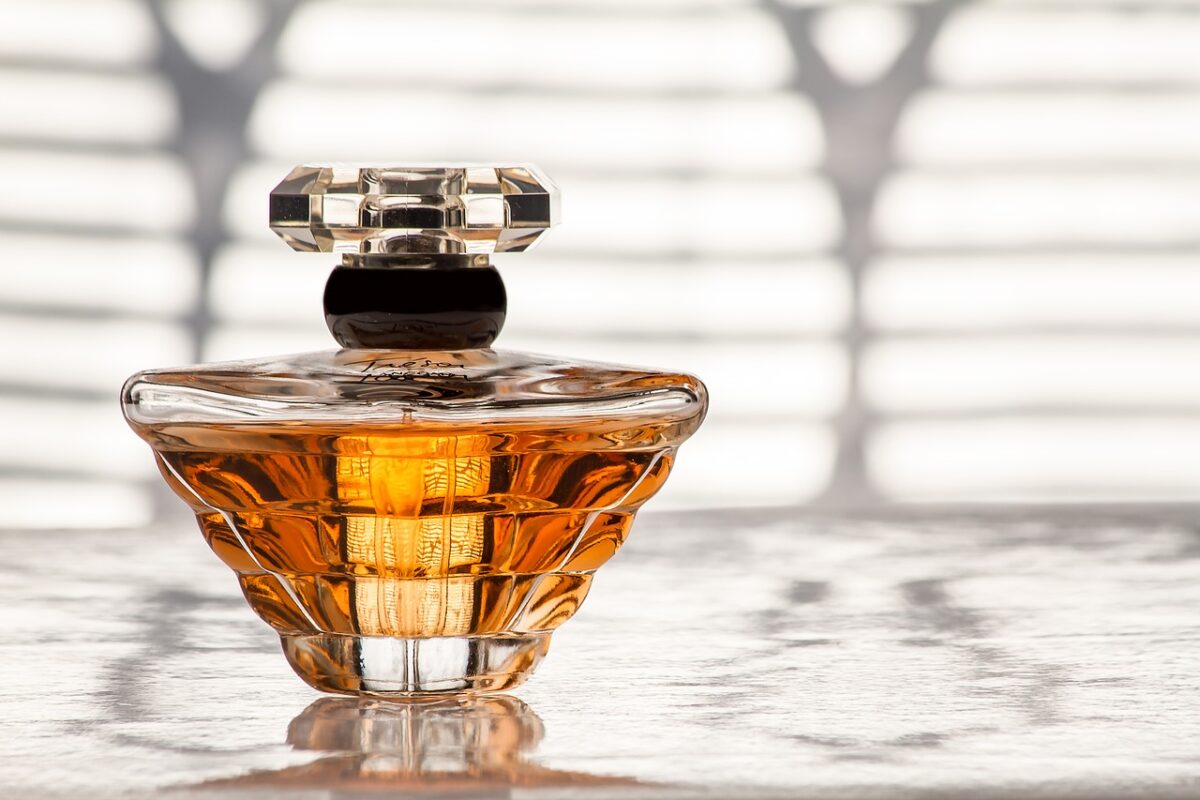 There are many different fragrance materials:
Synthetic fragrance materials – also called aroma-chemicals
These often copy natural smells, but because they are synthetic, that smell is less complex and does not vary as it would for a natural fragrance. So they make the job of crafting and selling a fragrance a lot easier!
Aroma-chemicals also do not contain known allergens, unlike some natural ingredients which are heavily regulated.
They also have a structural use and in particular, are often used to make fragrances more linear.
Aroma-chemicals are essential to create perfumes with ozone, marine, light floral or even fruity notes, which are hard to achieve with naturals.
Aroma-chemicals typically make up 90 to 95% of perfumes available on the market.
Many concerns have been raised regarding these synthetic perfume ingredients. For instance, many synthetic musks have been found in human fat, mother's milk, and the bottom of the Great Lakes.
Natural fragrance materials
Naturals include:
Essential oils – obtained by expression or distillation
Concrete, Absolutes and Absolute dilutions (usually 3% to 5% in Jojoba oil) – these are obtained using a solvent
CO2 extracts, which are extracted by carbon dioxide
Some flowers, like Jasmine, cannot be distilled due to the heat of the distillation process and can only be found as absolutes.
Many plants produce more than one type of aromatic substance. For example, the bitter orange tree produces neroli from the flowers, bitter orange oil from the fruit peel, and petigrain from the distillation of the twigs and leaves.
Natural fragrance materials are heavily restricted in Europe and many countries due to their potential to create allergic reactions. They are complex to work with, but they create a very unique type of perfumes.
Natural fragrances cannot re-create synthetic perfumes, especially those with delicate, watery florals or marine/ozone notes.
Fixatives are a way to help make fragrances last longer.
They are natural or synthetic substances that enhance scent and slow down the evaporation of scents that tend to disappear.
Fixatives are very high in scent molecule count; they blend with the key fragrance and make it seem stronger.
Popular fixatives are:
Synthetic aroma-chemicals, like musk
Plant fixatives, which include many resinous, sticky oils and absolutes like benzoin, frankincense, vetiver, sandalwood, cedarwood, clary sage, patchouli, and orris. They often have an earthy scent that "deepens" a blend.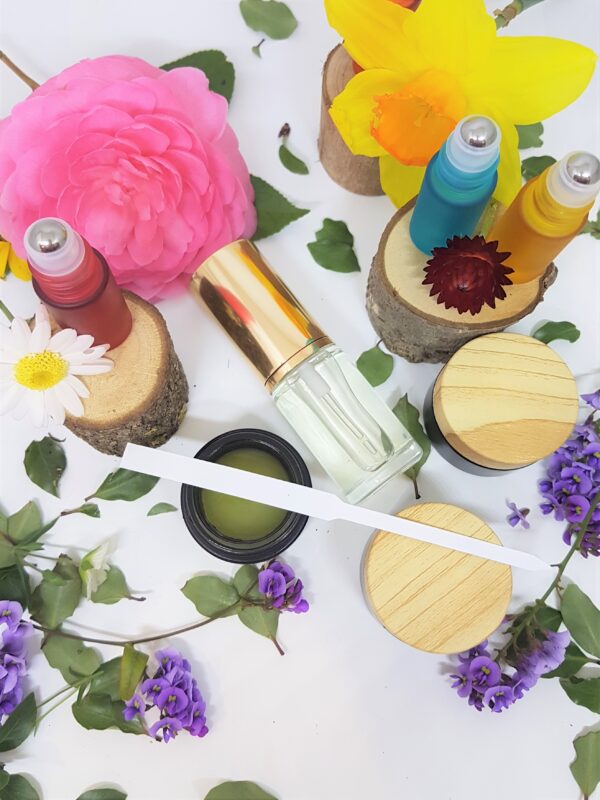 Learn & Make 3 Perfumes in our signature workshop
The Natural Perfume Essentials Workshop is a 3-hour, in-person workshop that we run in Melbourne.
During this hands-on learning experience, you'll make not just one but three perfumes:
You will make 1 solid perfume, 1 roll-on perfume, and 1 spray.
Natural, Organic, and Vegan Ingredients
In this DIY Vegan Beauty Workshop, you will learn how to create vegan perfumes using natural, organic, and vegan ingredients through sustainable methods.
You also have more than 50 essential oils and absolutes to choose from such as neroli, rose, clove bud, jasmine, violet leaf absolute, and many more.
You will be guided step by step to create your own fragrances.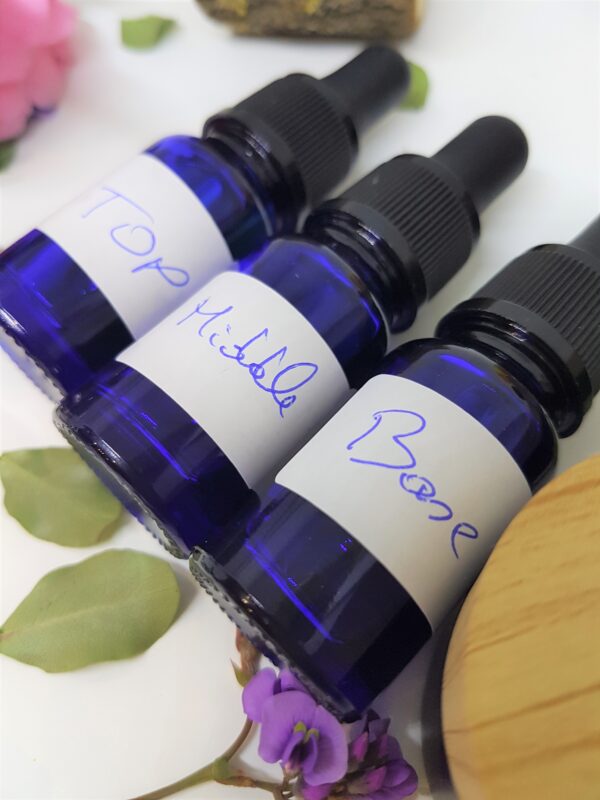 In-Depth Introduction to Perfume Making
Here's what we'll cover in this workshop:
Perfume Families
Top/Middle/Base Notes
How to Craft Unique Fragrances
Perfume-Making Safety Guidelines
Techniques to Make 3 Different Types of Perfumes
How to Use and Choose Between More Than 50 Gorgeous Natural Oils and Absolutes
Worksheets to Create your Own Formulas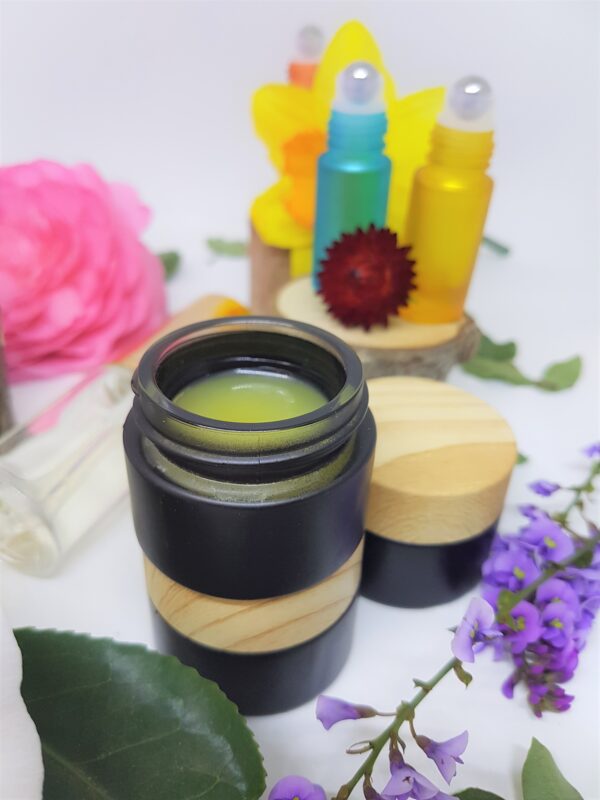 Your Natural Beauty Workshop Instructor
Hi, my name is Lily and I'll be teaching the class!
I'm a natural beauty enthusiast, and I love making DIY natural beauty products like organic perfumes. I teach all the Mademoiselle Organic workshops and started Mademoiselle Organic in 2017.
Making perfumes is not only a creative and relaxing hobby. It's a big step towards a healthier beauty routine.
I look forward to having you in this workshop. Click here to join our next class and learn more about natural perfumes today.
💛💛💛
With love,
Lily