Clary Sage (salvia sclarea) is a medicinal herb that was used by the ancient Greeks. The botanical name of Clary Sage comes from the Latin words "salvare" meaning to heal and "clarus" to clear or clarify. In ancient times, seeds of this beautiful plant were steeped in water to treat eye and skin infections and draw out thorns and splinters.
In the Middle Ages, Clary Sage tea was used to cleanse the mouth, ward off infections, improve digestive disorders and help women alleviate hormonal fluctuations. It was also used to soothe and calm the skin.
Linalool and Linalyl Acetate are two of the key chemical constituents present in Clary Sage Essential Oil that are also commonly found in Lavender oil. As a result, both oils have similar properties.


A Beautiful and Calming Aroma
Clary Sage essential oil has a clear, warm and almost nutty aroma that blends really well with citrus and woody oils, such as Bergamot, Grapefruit and Cedarwood.
This oil is often used to calm the nerves, promote sleep and improve clarity of thoughts. It's ideal in natural remedies to boost feelings of revitalisation, and in massage oil to relieve tension.
Massage oil recipe
Mix 4 drops of Clary Sage Essential Oil in 2 teaspoons of Sweet Almond Oil, relax and enjoy the massage!
The women's oil
Clary Sage oil is often used by women to balance hormones. It contains natural phytoestrogens which regulate women's estrogen levels and can help regulate the menstrual cycle, decrease period pain and ease menopausal discomfort.
Easy recipe
If you suffer from period pain or PMS, mix 2 drops of Clary Sage Essential Oil in 10 drops of Jojoba Oil and gently massage on the lower belly.
"Au revoir" dandruff!
I've used Clary Sage in many of my DIY solid shampoos because it cleanses the hair whilst reducing hair loss and clearing excess dandruff.
Quick tip
If you don't make your own shampoos, you can pour in your hand the normal quantity of shampoo that you use and add 1 drop of Clary Sage Essential Oil to it.
The best essential oil for oily skins and hair
Clary Sage essential oil balances sebum production, so it's great to reduce oiliness of skin and hair. It's a great addition to your homemade skin and hair products!
Get your organic Clary Sage essential oil here. Happy Pampering!
Precautions
Clary Sage Essential Oil should not be used by pregnant or breastfeeding women, children under the age of 6, or in case of estrogen-induced conditions such as hormonal cancers (breast, ovaries, endometrioma) because of its estrogenic effects. People with low blood pressure should also avoid using this herbal oil because of its hypotensive effects.
---
Learn how to use essential oils and make your own skincare – Click the below image for a FREE online course to get started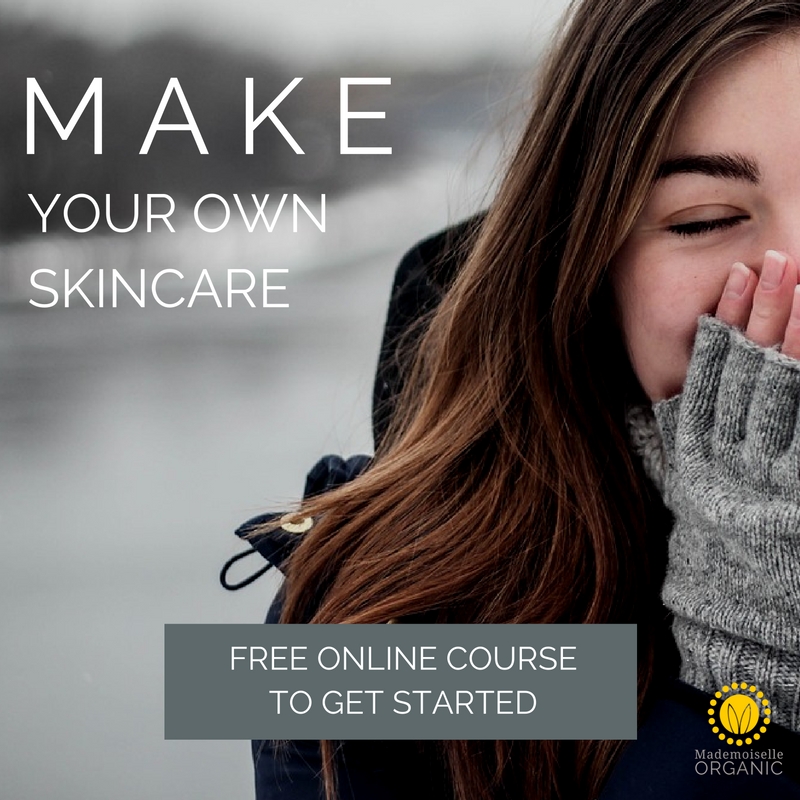 ---
---
References
Epub 2011 Sep 22., "Aromatherapy massage on the abdomen for alleviating menstrual pain in high school girls: a preliminary controlled clinical study", Hur MH, Lee MS, Seong KY, Lee K., https://www.ncbi.nlm.nih.gov/pubmed/21949670
Epub 2010 May 2. Antidepressant-like effect of Salvia sclarea is explained by modulation of dopamine activities in rats. Seol GH, Shim HS, Kim PJ, Moon HK, Lee KH, Shim I, Suh SH, Min SS., https://www.ncbi.nlm.nih.gov/pubmed/20441789
Epub 2013 Jan 29. Randomized controlled trial for Salvia sclarea or Lavandula angustifolia: differential effects on blood pressure in female patients with urinary incontinence undergoing urodynamic examination, Seol GH, Lee YH, Kang P, You JH, Park M, Min SS., https://www.ncbi.nlm.nih.gov/pubmed/23360656
"Le grand guide de l'Aromathérapie et des soins beauté naturels", Aude Maillard – Aromazone, éditions J'ai Lu, page 164
"Oily" Winter Edition Magazine 2017, Sydney Essential Oil Co., "Fragrant swirls of Clary Sage", page 5-10
Photo in Pinterest image: By Hectonichus – Own work, CC BY-SA 3.0, https://commons.wikimedia.org/w/index.php?curid=15665695
---
Disclaimer: Any recommendations are based on personal, not professional, opinion only. All information on Mademoiselle Organic is meant for educational and informational purposes only. Products and/or information are not intended to diagnose, cure, treat, or prevent any disease. Readers are advised to do their own research and make decisions in partnership with their health care provider. For information on how to use this site, please read my Blog Policy page.