Are you interested in DIY Beauty but don't really know where to start? I'm sharing my best tips on where to look for trustworthy information, and also recommendations on resources that can help you get started.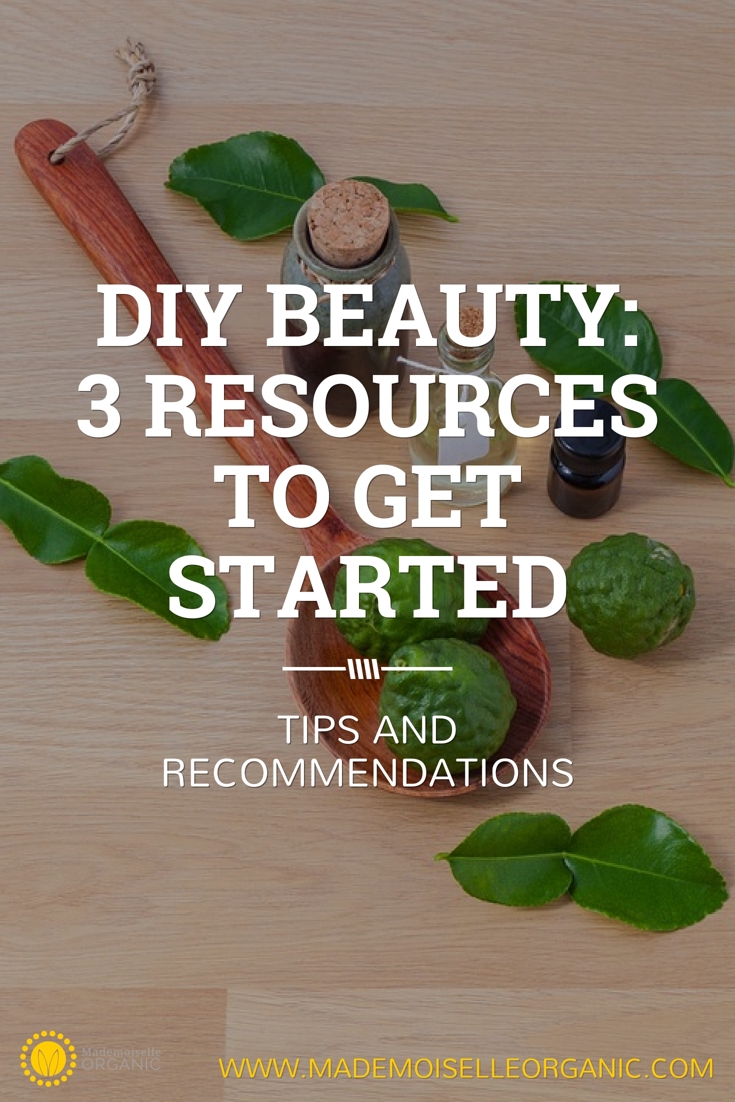 There are 3 different types of resources that can interest you, depending on your personality and how you like to learn.
Online blogs – if you like to look for the information and learn from different websites and people
Online courses – if you want to see quick results and learn at your own pace
Face-to-face workshops – if you like to interact and ask questions
Let's start with blogs
If you are looking at learning DIY by yourself through reading blogs, a good place to start is to create an account with bloglovin and search in their list of blogs the ones you like the best. Once you've registered, just type in "DIY Beauty" in the search bar and you'll get a good list. I personally really like using Bloglovin because I get informed anytime a new article is published on the blogs I follow. So it saves me quite a lot of time!
Another tip I would like to give you: when choosing to follow a DIY Beauty blog, check out that the bloggers back up their recipes with research or at least explain the benefits of their ingredients. If you see any recipes that include water or water-based ingredients in them, and if the blog does not mention preservatives or instructions on how long to keep the products, don't follow them. This is because DIY products that contain water or water-based ingredients are fragile and should be prepared following specific instructions.
You can also subscribe to my blog to help you in your DIY learning. On the blog, I post easy DIY recipes and also photos of what I make, but not only that. I also review organic beauty products and I write about the science and research behind DIY ingredients. If you are interested in the content of the blog, I highly recommend you subscribe to my newsletter to receive a list of all the articles I publish every month, DIY beauty tips, and also exclusive offers, including discounts on DIY courses and workshops!
Fast track your learning with DIY online courses
As I mentioned at the beginning of the article, the best and most effective way to learn DIY Beauty is, in my opinion, to enroll in an online course. This is because you can learn at your own pace and also get all the information you need without having to look for it on different websites online. Plus, if you are really new to DIY Beauty, then there are probably things you should know before getting started that you wouldn't even think about researching because this is such a new topic. While I cover many of these things on the blog, there are more that I cover in my online course for DIY beginners, such as, for instance, the necessary precautions when using essential oils. This course also gives you all the techniques you need to make a wide range of skincare products for your face and body. I also provide you with a list of ingredients for different skin types, information on all the prerequisites of DIY skincare, and I cover in detail essential oils and other DIY ingredients.
You'll also learn 3-minute recipes to make all the products you can see in the below gallery. The course is 100% refundable so you take no risk at all when booking a course.
Click here if you'd like to check out the outline and enroll. If you have any questions on the course, feel free to send me an email at lily@mademoiselleorganic.com.
There are a few other online courses available on the internet that you can look into. Before choosing an online course though, I would recommend a few things.
Don't pick a live webinar to teach you DIY Skincare. This is simply not practical! You need to be able to access the videos at a time that is convenient to you and also re-play them if you have missed any information or just want to check how a recipe is executed.
Make sure all the prerequisites to DIY Beauty are covered – including safety and hygiene
Make sure preservatives are covered in the list of ingredients
Ideally, choose a course that will enable you to tailor your recipes to your skin condition.
We all know the feeling when we buy something and feel that it doesn't deliver what was promised on the packaging or on the website. Choose a course that is refundable so you really feel that you are not taking a big risk in committing to the course.
Make it happen live with workshops
If you want to learn DIY skincare with a person next to you to explain and show you how it's done, your best option is to choose to do a workshop. The good thing with workshops is that you practice under the supervision of someone who can help you whenever you have a question. But doing a workshop requires you to be available on a specific day and also learn everything at once, which is not always the best way to memorize techniques and information. So it really depends on your personality and what you like.
When choosing a workshop, most of the tips I mentioned about blogs and courses apply. Do check the content of the workshop, and especially the outcome, meaning the products you'll make, and also the theory you'll learn. Ask yourself: will you feel confident at the end of the workshop to make your own products at home?
Some workshops also have hidden costs. For instance, you may have to pay for the ingredients you use. So make sure use of ingredients and equipment is covered in the price.
There are many options available for workshops, but mostly in the big cities. If you live in Melbourne, I also offer DIY Skincare workshops which you can book by clicking here. The workshops are tailored to the level of participants and I teach the same content as in my online courses. I also supply all the ingredients and equipment you need to make your products.
Thank you so much for reading me!  DIY Skincare is such a wonderful and rewarding activity, and I wish you success in this field with all my heart.
Lily
---
---
Make your own skincare – Click the below image to learn online at your own pace

---
Disclaimer:  All information on the Mademoiselle Organic blog is meant for educational and informational purposes only. For information on how to use this site, please read my Blog Policy page.